Hristo Penev – Product Demo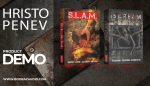 You can also check out our libraries used in this track here:
S.L.A.M. – Super Loud Action Metals! Earth Shattering Trailer and SFX Scrapyard Toolkit.
GET IT HERE!
ISCREAM – Screams, Growls and Scares! The ultimate horror composer toolkit with atmospheres and SFX!
GET IT HERE!